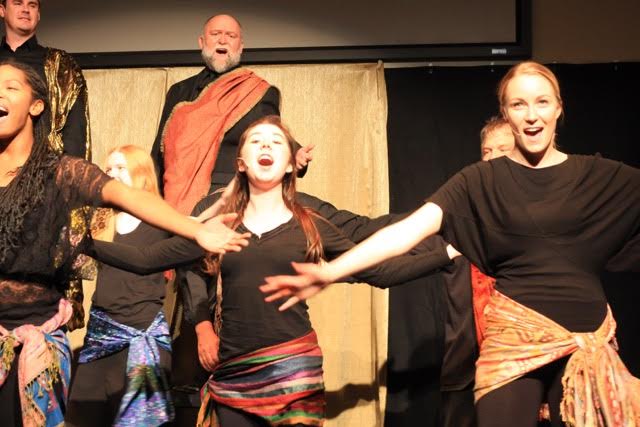 John Eddings as Haman, Andrew Pratt as Xerxes, Hadiyyah Smith as Marjan, Elise Gibney as Young Hadassah, Ellie Boggs as Cyra, Allen Corben as Hegai, Victoria Young Alridge as Pari. Photo by Shanda Renee.
"Sparks of Life"
Two Amalekite girls bully Hadassah about being Jewish and insist that she'll never amount to anything. Hadassah's uncle and guardian, Mordecai, comes to her rescue. Seeing her discouragement, Mordecai, who is a palace gardener, comforts her and helps her plant a tiny seed in their garden.
"Chance of a Lifetime"
Angry citizens surround the palace to protest the king's new decree. The edict calls for all beautiful young maidens to enter the harem to compete for the title of queen. Having lost so many sons in the war with Greece, the mob is outraged that the king would demand their daughters as well. Haman, the king's charismatic adviser, charms the crowd into believing it's a wonderful opportunity.
"The Chosen One"
A crowd cheers and bows to Haman, whom the king has just promoted to vizier.  Seeing that Mordecai refuses to bow, Haman declares that Mordecai and all the Jews are traitors who cannot be tolerated.
"Make a Difference"
With her people in danger, Esther beseeches Xerxes spare her people. She asks him to call her by her real name, Hadassah, and see her as the Jewish girl she is.