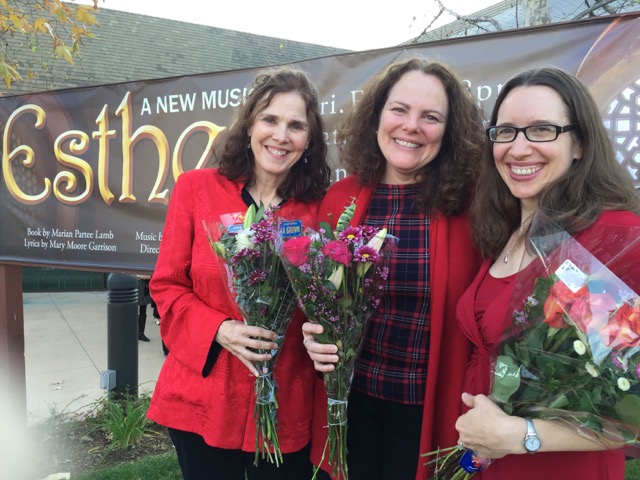 From left: Mary Moore Garrison (lyrics), Ann Moore Miller (music), Marian Partee Lamb (book)
Marian Partee Lamb (Book)
Marian's musicals and plays have been produced by Red Mountain Theatre Company in Birmingham, AL (Miss Vulcan 1939, three productions), Actor's Co-op in Hollywood (Miss Vulcan 1939), Theatre Building Chicago (Past Time), City Lights Theatre Company of San Jose (Rapunzel), the Great American Melodrama in Oceano, CA (Silence of the Hams, Jack and the Beanstalk, two productions of Hansel and Gretel, two productions of Little Red Riding Hood, two productions of Rapunzel), White Sage Theatre Company in Winnemucca, NV (Miss Vulcan 1939), Northwestern University in Evanston, IL (East of the Sun, West of the Moon), Cal Arts in Valencia (McBeth The Musical! and Inconceivable ), and High Tech L.A. (Powder Puff Pilots).  Her musicals, Madwomen and Powder Puff Pilots, have received staged readings through UC Irvine's Festival of New Musicals and the Academy for New Musical Theatre.  Marian holds a BS in Theatre from Northwestern University (summa cum laude) and an MFA in Acting from Cal Arts. She is a member of the Academy for New Musical Theatre and the Dramatists Guild. www.marianpartee.com
Mary Moore Garrison (Lyrics)
Although graduating with a BA in French, Mary responded to her love for musical theatre by becoming president of Southern Singers at the University of Texas, a group known for pop and musical theatre songs.  In Los Angeles, she has participated in Roy Rogosin's Musical Theatre Workshop and studied lyric writing with Marty Panzer.  She joined the Academy for New Musical Theatre, which produced her mini musical, Spindletop.  Mary workshopped her screenplay, Wowakan, at Jeffrey Gordon's Writer's Boot Camp in Santa Monica.  Jubilee Campaign commissioned her to co-write the song, "God's Child" with her sister Ann to raise awareness for abandoned and abused children.  Her most recent project is a children's CD called Blue Fish.  Mary is a member of ASCAP and the Dramatists Guild.
Ann Moore Miller (Music)
Ann received her Bachelor of Music in Music Theory/Composition from Texas Christian University in Fort Worth.  Moving to New York City, she continued her music studies with composer and teacher Stanley Wolfe at The Juilliard School.
Upon hearing her work, Academy Award winning songwriter Al Kasha encouraged Ann to move to Los Angeles in 1987. She has orchestrated and co-produced a variety of projects with Mr. Kasha, including logos for The Family Channel and MTM Productions. Ann has also orchestrated for Jeff Rona on "Chicago Hope" and Serge Colbert on "Operation Delta Force."
Ann's scores for the films The Hot Room and It's in the Bag premiered on Showtime. Selections from the latter score were also used to underscore the Emmy nominated "Making Lives Over" for "Life and Times" on PBS. She wrote the theme song for the nationally syndicated television series, "Just Imagine," created by Tony Nassour and Bill Evashwick.  She wrote the score for an award-winning independent feature entitled Marriage Prep. She also composed the main title for the Canadian independent film, The Pawn.
Ann continues to write for television and film through Nightingale Music, her most recent contribution being an A Capella project of "The Water is Wide."
She composed many of the songs on the children's CD, Blue Fish, a project she conceived and co-produced with her husband John Gibson Miller.
Before she relocated to Tulsa, OK, Ann was a member of the Academy for New Musical Theatre, which produced her short musical, Spindletop. Her most recent project is a piece in the new Ubisoft X-box game called "Valiant Hearts." She currently teaches music theory at Barthelmes Music Conservatory in Tulsa. She is a member of ASCAP.