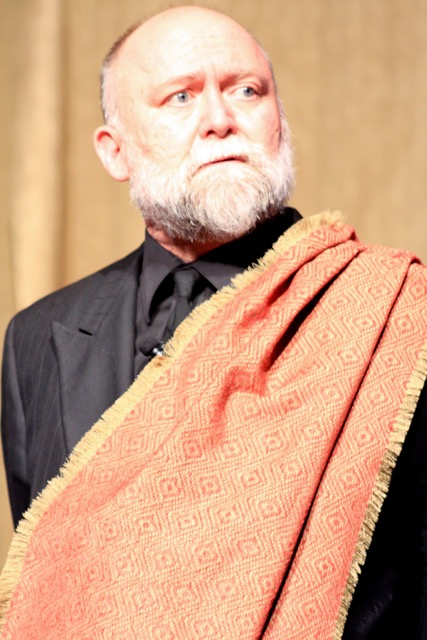 John Eddings as Haman. Photo by Shanda Renee.
Young Hadassah (age 10)
Sweet Jewish girl
Two Amalekite Girls (age 10)
Cruel, anti-Semitic
Hadassah, later called Esther (age 17)
Beautiful leading lady, smart, sweet, spunky, Jewish orphan who becomes queen of the Persian Empire
Mezzo Soprano/Soprano Belt
Mordecai (40's or 50's)
Hadassah's Jewish uncle who has raised her, head gardener at the palace, a man of courage and integrity
Xerxes (20's or 30's)
Handsome leading man, charming king of the Persian Empire, insecure due to a disastrous defeat in battle
Haman (20's to 40's)
The king's charismatic, cunning adviser, obsessed with destroying the Jews
Marjan (20's)
Beautiful, sexy, sly, will stop at nothing to become queen, dancer
Pari (20's)
Beautiful, enthusiastic, dim-witted, dancer
Cyra (20's)
Beautiful, insecure and self-deprecating, dancer
Hegai (20's to 40's)
The head eunuch of the harem and palace scribe, a kind man of integrity
Zenda (40's or 50's)
Harem instructor
Benjamin (20's)
A nerdy, enthusiastic Jewish boy, Esther's suitor
Adar (40's or 50's)
Benjamin's pushy, talkative mother
Asher (40's or 50's)
Benjamin's henpecked father
Rachael (40's or 50's)
Benjamin's talkative aunt
Teresh (30's-60's)
The king's ambitious vizier, a traitor
Bigthana (30's-60's)
An adviser to the king, a traitor
Zoroastrian Priest (any age)
NOTE ON CAST SIZE
The show can be performed with a minimum of 16 actors (7 men, 6 women, 3 girls). Most actors can play citizens of Susa in ensemble numbers. Teresh can double as Soldier. Asher can also play Bigthana and Zoroastrian Priest. Rachael can double as Zenda. Benjamin can also play Guard.